Hey everyone! I have the best darn breakfast recipe to share with you, and you will be thanking me for years to come. I am sharing this recipe just in time for Christmas so that you can wow your friends and family Christmas morning. It is called the Santa Fe Crescent Ring, and it is as close to Heaven as you can come without... well... you know. Anyhow, I found 2 fabulous blogs that featured similar recipes for the crescent ring that I combined and, of course, tweeked to put a healthy, low- fat spin on it. Thank you,
Bacon Time with the Hungry Hungry Hypo
and
Steelmom
, for your inspiration for this recipe that was a major hit in my home!
Here's what ya need:
10 egg whites (Remember whenever substituting egg whites for eggs, 2 egg whites = 1 egg)
1 cup of any fat free or reduced fat Mexican blend shredded cheese
1 8oz package of reduced fat crescent rolls (I always get the store brand)
5 slices of Oscar Mayer Fully Cooked Bacon, which I pull all the funky fat off of.
2 slices of tukey breast. Now, we always buy Boar's Head Ovengold turkey from the deli counter and have it sliced sandwich style.
1/3 of a 10oz container of Philadelphia Cooking Creme- Santa Fe Blend. When I reduced Steelmom's recipe, it equaled 1/2 of the container, which I used the first time I made the ring, but it was waaay too rich for my liking. Since you will have leftover cooking creme, you can go the the Philadephia page I linked and use the rest in one of their recipes.
Now here's what ya do:
Preheat your oven to 375 F degrees
Scramble up your egg whites on med heat. I always mix my egg whites with about 2 tbs skim milk.
While your eggs are cooking, break up the bacon and turkey into little chunks.
Put parchment paper on a large cookie sheet and spray parchment paper with non- stick cooking spray. Pull the crescent rolls apart so they are in triangles. Place rolls on parchment paper in a circle so that the points are sticking out and it looks like a sun. The flat parts should overlap a little. I always stretch the crescents out a bit so that they are a little longer than how they come out of the container. Sprinkle 1/3 cup of the shredded cheese around the wide end of the crescent rolls.
Once your eggs are done cooking, stir in the turkey, bacon and the Santa Fe Cooking Creme. Mix well.
Spoon the egg mixture onto the wide end of the rolls and put 1/3 cup cheese on top of the mixture.
Fold the points over the egg mixture and put the remaining cheese on top of the cresent ring.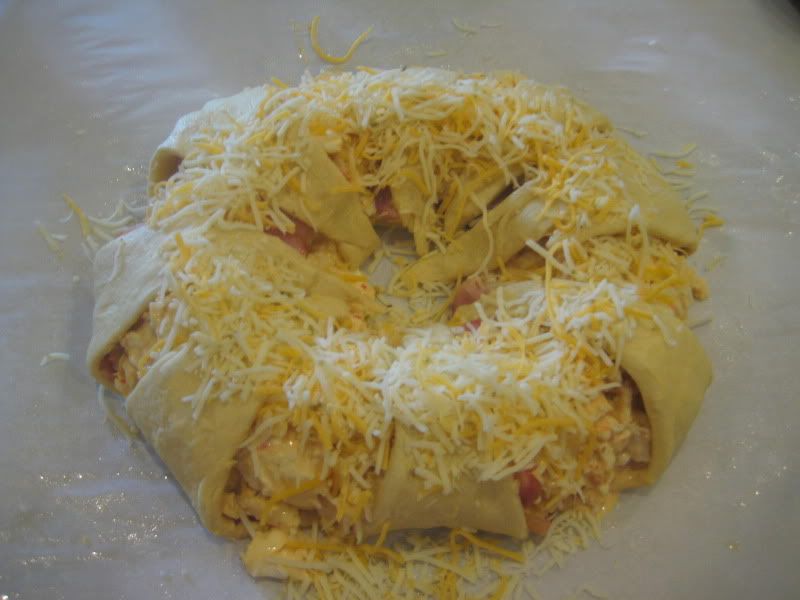 Bake for about 15 minutes, or until the cheese on top is melted and the cresents are a golden brown.
Pull that baby out of the oven and enjoy the party in your mouth!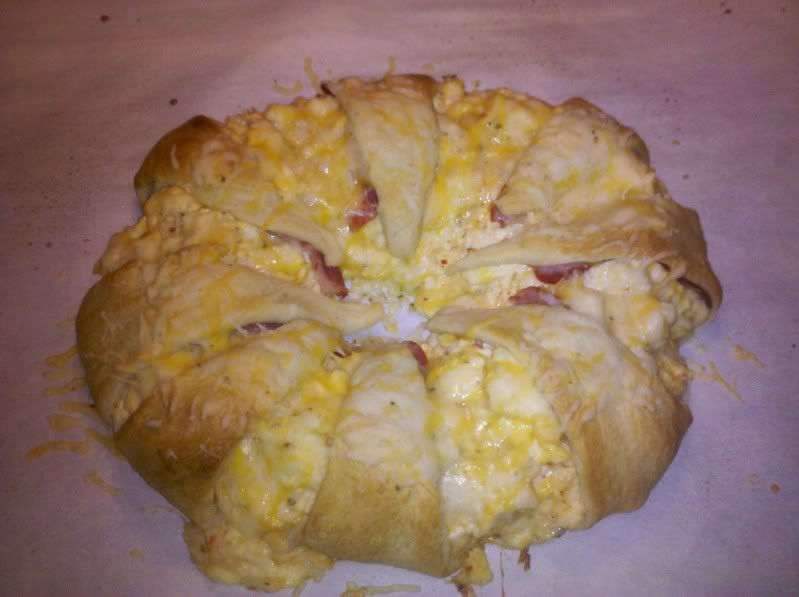 This serves 4 and take about 15 mintutes to prepare, plus your cooking time. You're going to fool everyone into thinking they're having a comfort meal, but you know the real truth. And seriously, if this doesn't make you want to slap your mama, I don't know what will!
Hope you all love this recipe and have a very, very Merry Christmas and happy holidays!!
Much Love,